How to pack shoes in a suitcase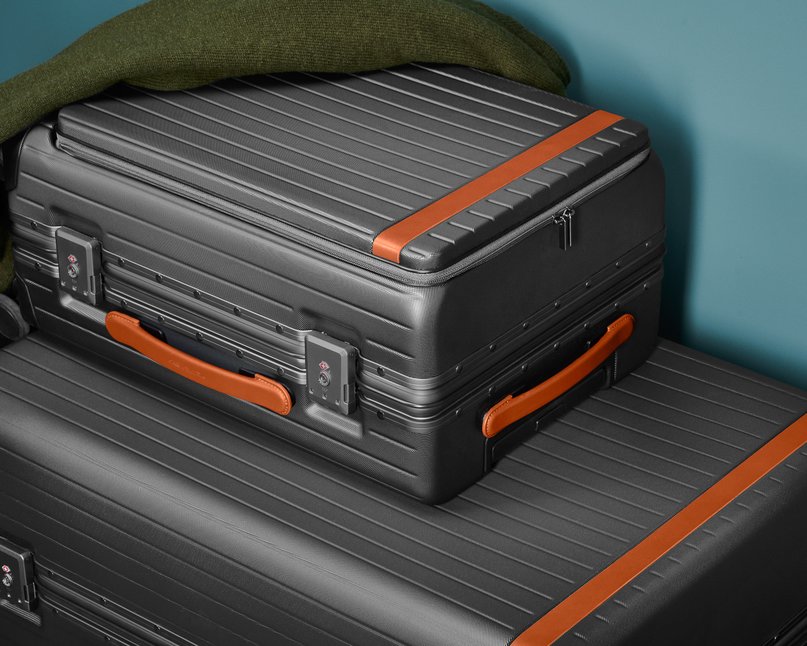 From learning the optimal method for folding shirts to ensuring every inch of suitcase space is utilised, there's a lot to consider.
Arguably the most difficult personal item to stow away is shoes, as they're heavy, unhygienic and oddly shaped.
To save you stress the next time you head away, we're tackling the topic head-on. Read on to discover how best to pack shoes in a suitcase.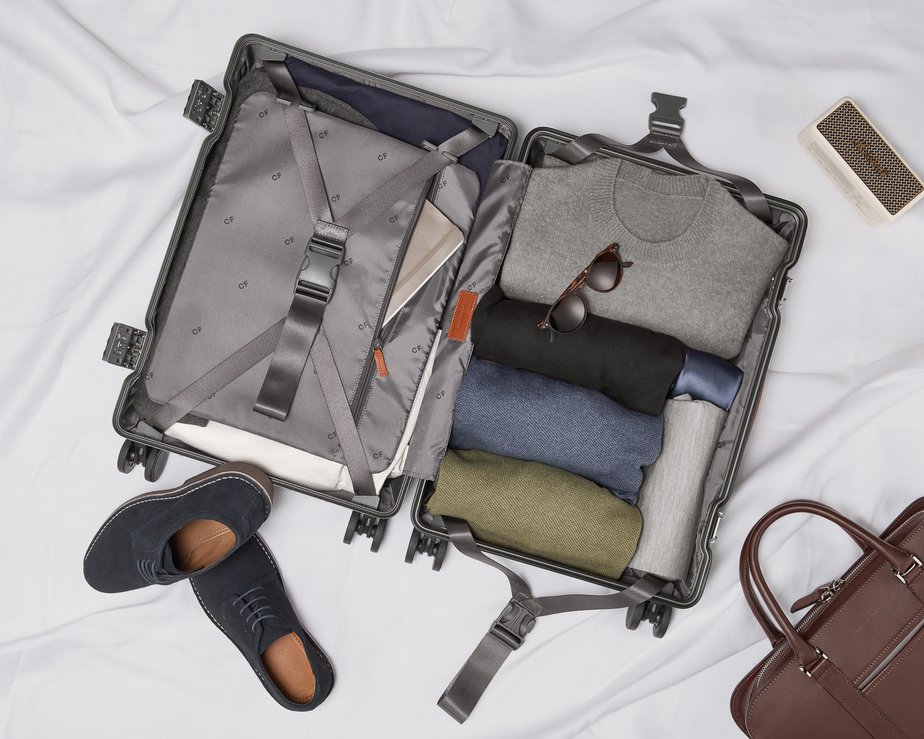 Key considerations when packing shoes in a suitcase
Why does it matter how you store shoes in your luggage? There are 4 main reasons in our eyes.
Space


Hygeine


Weight distribution


Avoiding damage


With airlines charging evermore for passengers to travel with luggage, suitcase space is at a premium. Packing your carry-on effectively could be the difference between having to pay for another suitcase in the hold (£££) — or not (side note: also remember to weigh your luggage at home before leaving for the airport).
Shoes present a challenging conundrum to the Tetris-like operation of suitcase packing because, unlike your clothes, they're bulky and won't simply fold into place.
Then there's the issue of hygiene. You don't want your much-loved (and much-worn) pair of Birkenstock sandals coming into contact with freshly washed holiday attire.
Let's face it, behind electronic devices, shoes are often the most valuable item in your suitcase. Rivets and zippers can easily scuff and damage sensitive shoes. The right packing method will ensure they remain protected.
Lastly, consider stability. Placing your shoes at the base of your travel case is best from a weight distribution perspective – reducing the risk of it falling over.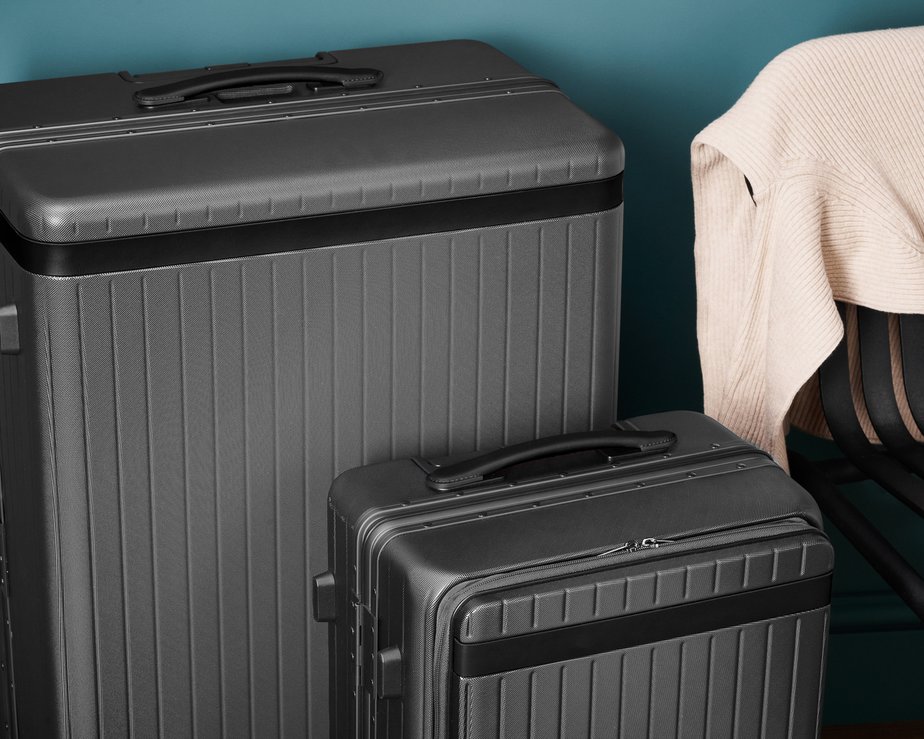 How to pack shoes in a suitcase
There are multiple methods you can use to store shoes in luggage. We'll look at four techniques below.
Method #1
I. Cleaning
It goes without saying that worn shoes can be odorous and unhygienic. So, start by spraying yours with an antibacterial shoe spray. You can also use a toothbrush and warm water to remove potential dirt if you don't plan on separating the shoes from other items when packing (more on this soon).
II. Filling
Carefully pack your shoes with smaller items (e.g. socks, belts). This will prevent them from becoming disfigured and help you to save on space.
III. Wrapping
We recommend you wrap your shoes in a plastic bag (or similar) to ensure they remain separated from clean clothes while in the suitcase. Pack them heel to toe with the two soles facing outwards.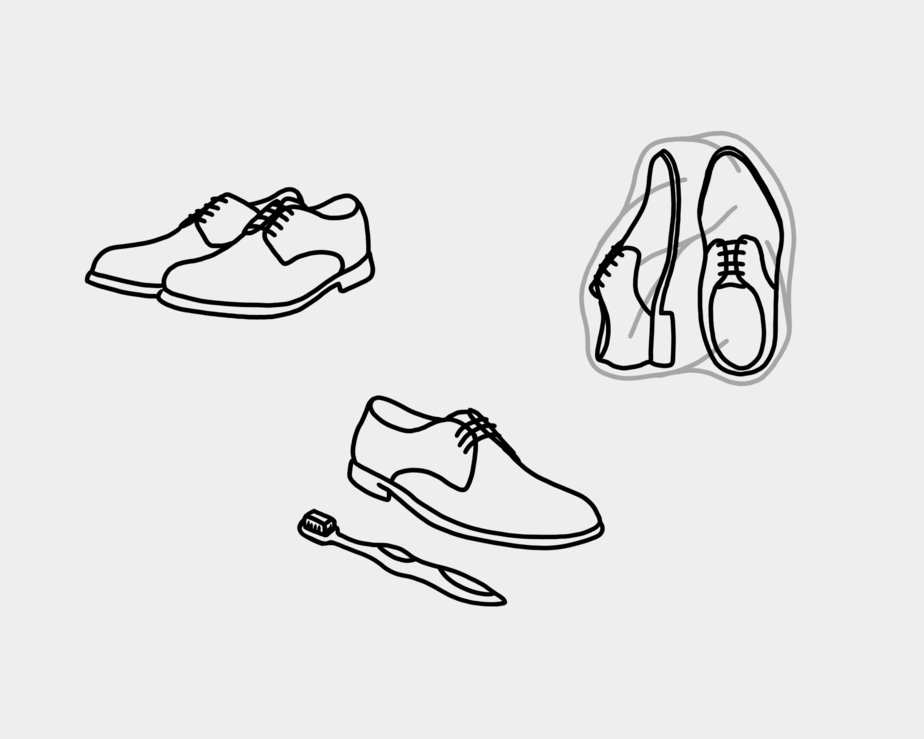 IV. Shoe packing
If you decided to wrap your shoes, place them at the base of the suitcase with one sole sitting against the bottom wall.
If you didn't wrap your shoes, place them individually on one side of the metal rods that protrude from the suitcase. Aim to position one shoe at the base. Each sole should touch a side wall. We've found this is the most efficient way to pack shoes.
V. General packing
Add a layer or two of soft clothing around your shoes to help protect them during the transit. The tighter items are packed, the less likely they are to move around while you're travelling.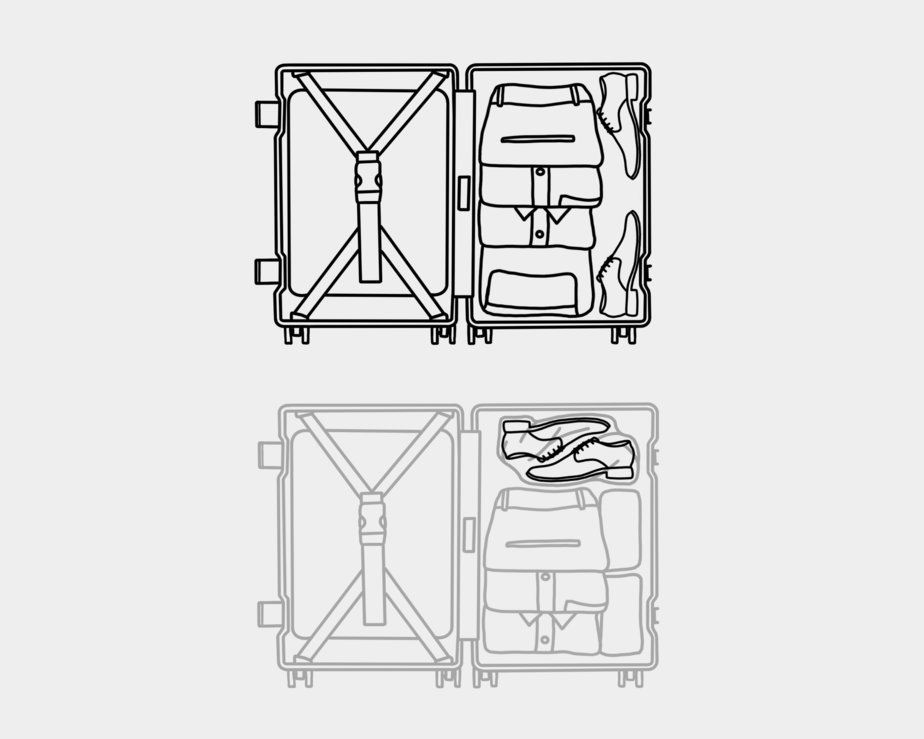 Method #2 Packing Cubes
You can also get more inventive when packing shoes for travel. Packing cubes represent an excellent way to pack a variety of travel essentials, from clothes to tech and shoes.
Packing cubes have an ergonomic design that allows them to be stacked on top of one another and maximise packing potential. They can easily be used to separate shoes from clean clothing items. Certain packing cubes are even made from antimicrobial materials, helping to keep germs at bay.
Carl Friedrik offers a set of four packing cubes that come in multiple sizes — with the large cube ideal for a pair of shoes. This utilitarian luggage accessory is perfect for categorising and compressing your carry. And they have been carefully designed to fit seamlessly into our three sleek, polycarbonate suitcases: The Carry-on, and The Check-in.
And if you're wondering how best to use packing cubes, check out our article on the topic here.
Method #3 Shoe slots
Certain travel bags now incorporate shoe slots into their designs. These tend to be open pocket compartments for stowing away a lightweight pair of shoes.
The result is a natural barrier between shoes and other contents — great for hygiene purposes. And they also save time for the owner, who no longer has to worry about how to systematically fit his favourite pair of brogues or loafers into an already largely full travel case.
Getaway Weekender is one such bag that features integrated slots to hold one pair of shoes. Crafted from premium nubuck leather, it also boasts a suit carrier compartment (for moving a suit from A-B without getting creases), multiple accessory pockets and comes with a lifetime guarantee.
Tips for packing shoes for travel
Below are some general tips to consider when packing shoes in a suitcase.
Wear your bulkiest and heaviest shoes on the plane to save on suitcase space


Maintain the shape of your shoes during transit by storing items inside of them. This also represents a sound place to store valuables (jewellery, mobile phones etc.)


If using a plastic bag to wrap shoes, ensure that you release all the air out before packing them Position soft clothing around shoes to prevent scratches


Position soft clothing around shoes to prevent scratches


Do not position shoes near valuables, such as expensive tech — items can move around during transit


Invest in quality luggage that encourages an easy packing experience (more on this below)


Carl Friedrik luggage
Suitcase packing is probably the least enjoyable aspect of travelling (up there with airport delays and jet lag), but it can be made that bit easier with the right luggage.
Carl Friedrik's hard-shell luggage range has been created with this mantra in mind. All suitcases offer a modular interior design.
Open up The Carry-on or The Check-in, for example, and you'll see each side has a detachable compression strap. The strap helps to squeeze clothes together and stop awkward items (hint hint, shoes) from shuffling around while you travel. A removable compression pad does much the same.
The range is as elegant as it is functional. Each travel case shares a pared-back, semi-industrial aesthetic that is perfect for style-conscious travellers. In fact, our best-selling suitcase, The Carry-on Pro, recently won a prestigious Wallpaper design award in the 2022 Smart Luggage category.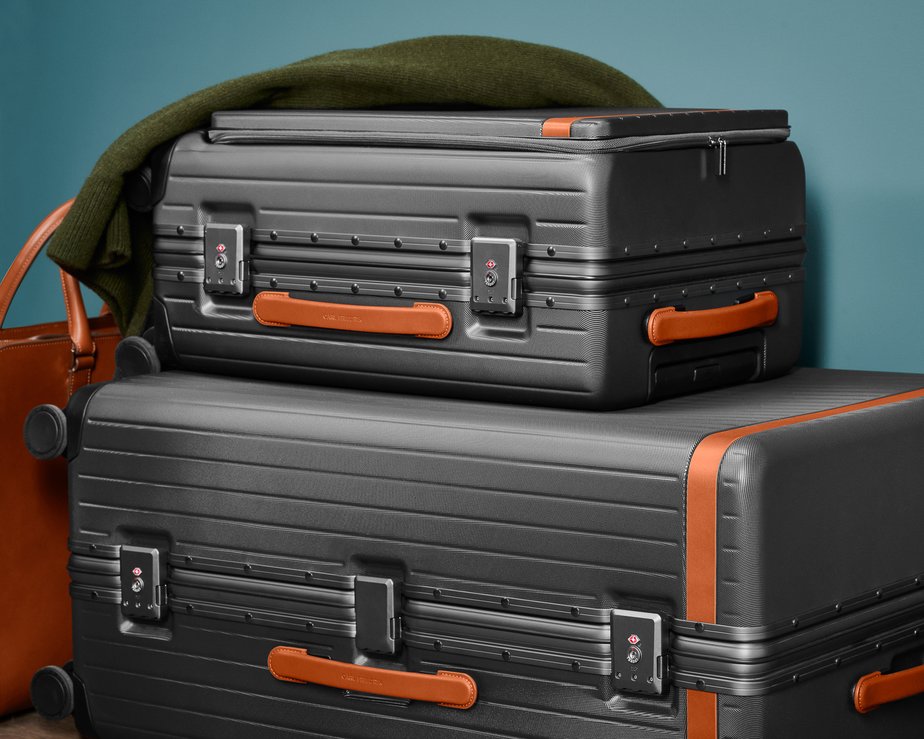 Takeaway
Now you know how to pack shoes in a suitcase you're one step closer to becoming a packing guru — and sure to save valuable space next time you head away.
See our other articles on packing for a flight and shirt folding for more valuable tips.
What is the best way to pack shoes in a suitcase?
+
Can I put shoes in my carry-on?
+
Where do shoes go in a suitcase?
+